Fantastic Sofa Transformation - Before/During/After!
Chrissy had her upholsterer go from mundane to Modern!
Classic Mid Century Modern Sofa With New Look!
Desiree had her sofa recovered and it looks like new!
Kelly gave this old chair another life!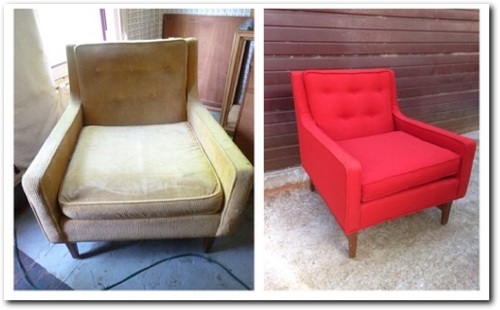 Old Chair + New Fabric = Wow!
Gayle had her wingback recovered in a modern fabric and it looks great!
2 down, six more to go!
Pat is recovering 8 very cool dining chairs.
l+j industries
Lynne and Julia are furniture designers - reworking vintage furniture as well as designing new pieces based on mid-century designs.
Check out more things they've done on their website!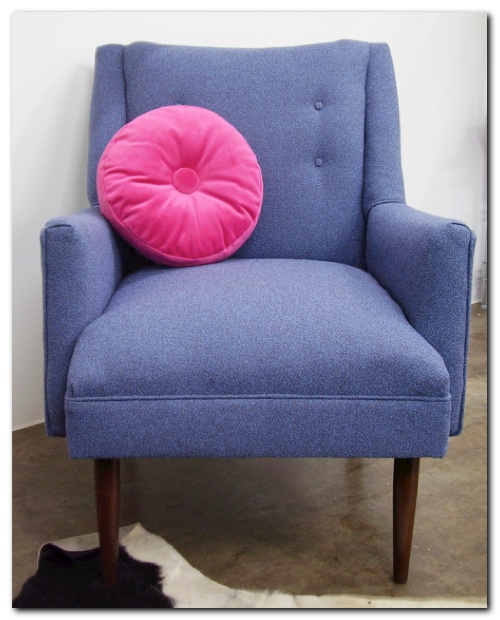 Built in Seating Project
Great design carried out with stunning results!
Design and execution by ARCHITERRA, Boulder, CO 303-449-5237
Stephanie's Cool Chairs
Stephanie had these two Kodawood Chairs professionally done. Super Cool!
Jan's Sofa!
Jan was so happy with the nice job her upholsterer did, she wanted to credit her as well!
Check out Aimee Swikit of Artisan Upholstery!
Grandpa's Chair!
Laurena had her Grandfathers's chair nicely refurbished, what a super job…
Super Sofa Redo!
Andy and Jen had this sofa recovered and WOW! Colors go great in the room!
Dining Room Chairs from Janice!
Nice vintage chair project from Janice who does all her own upholstery. Second pic is the before and after, what a super job!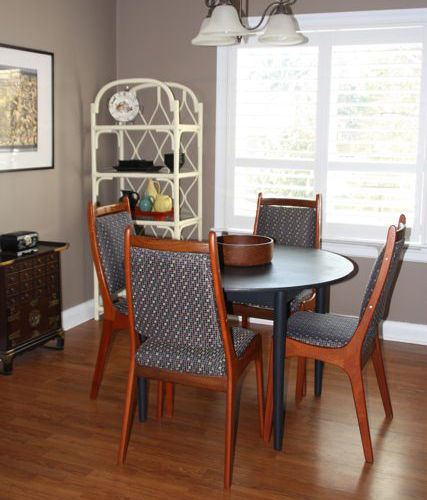 Recovered Chair from Rita!
Cool vintage Steelcase chair recovery using Herman Millers' Iota Laurel Boucle fabric!
Modern to the Max Recovered Sofa from Whitt!
Sofa recovery using Knoll's Cuddle Cloth in a totally cool metro pad!
Heather's Dining Chair Project!
Using some ArcCom Textiles "Jetson Fiesta" fabric for a very cool dining room look!
Wool Drapes for a Great Mid Century Modern House!
Nancy and Sam own a fantastic Wright influenced Mid-Century House and used Herman Miller "Leaf Gale" wool fabric for their drapery project!
Susan's Bedspread Project!
Using Luna Textiles "Compass" wool blend fabric. Click on the pic for a link to her blog...
Susan put together a king size duvet cover which turned out great! Check it out here!
Tulip Chair with Knoll "Gibson Spirit" Upholstery Fabric used for the cushion.
Looks just like the photos on Knoll's website! Very Nice!
Florence Knoll Chairs with Kvadrat/Maharam Wool Upholstery Fabric
These were professionally recovered and look fantastic!
Modern Sofa with Luna Compass Upholstery Fabric and Contrasting Pillows
Nice fabric, nice sofa, turned out great!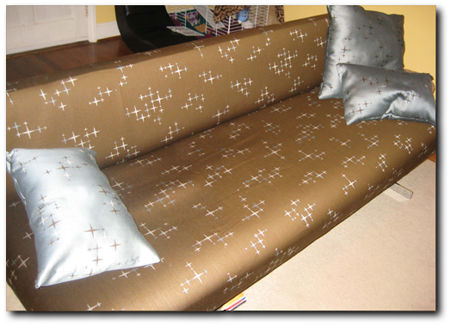 The Metzendorf Project
A Trailer, given lots of TLC, comes back from the edge of no return...
Story of an old trailer given a second chance... Check it out here! Below are the Before and After pictures... The entire project is blogged on the link.
Ann's Dux Chair Makover!
Despite crumbling foam, hard work resulted in an Excellent Project!
Fantastic slide show of a Dux Chair Re-upholstery project. I highly recommend!!! Check it out here! Below are the Before and After pictures... The Slide Show link shows the entire project.